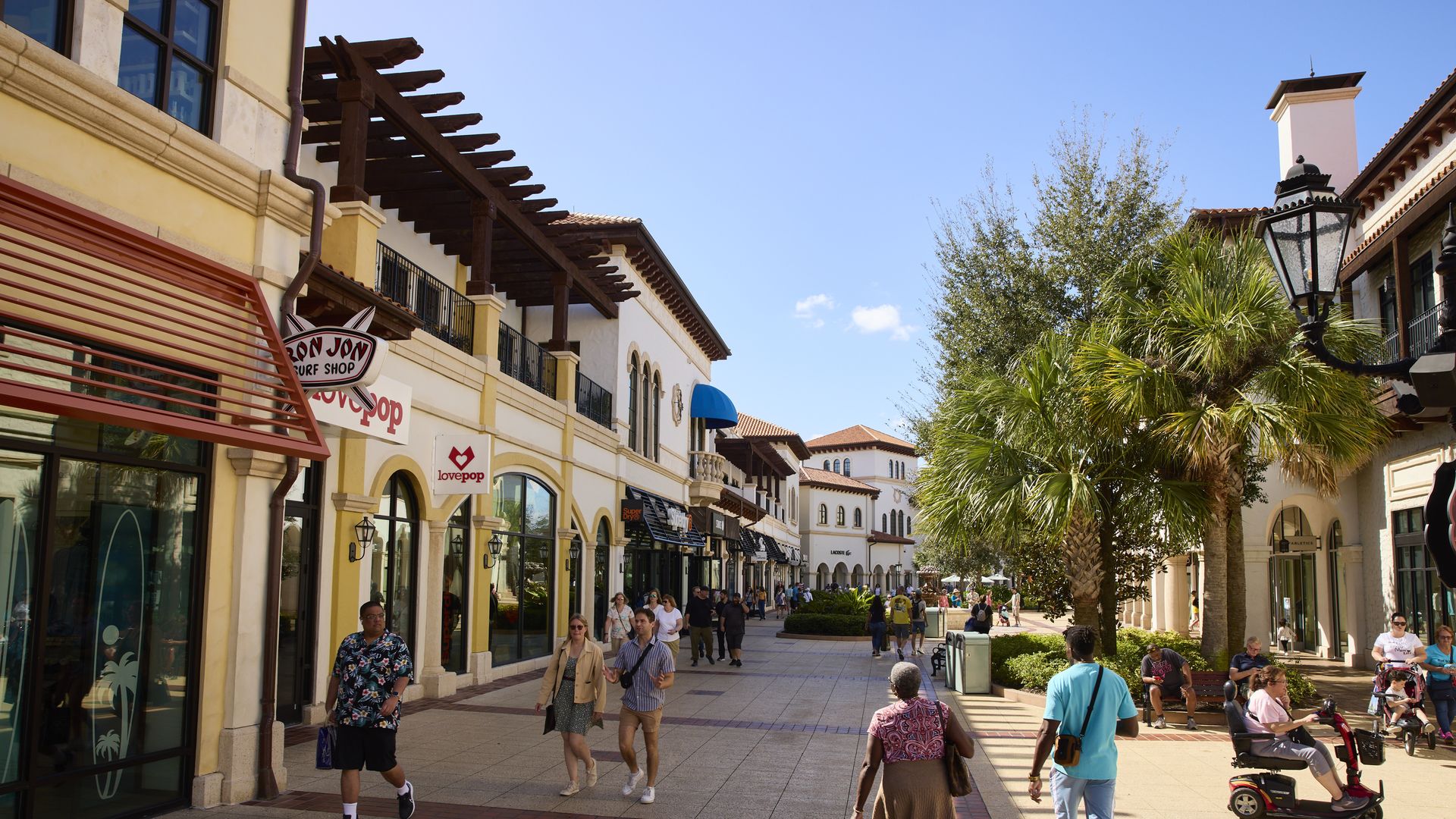 Shoppers at Disney Springs in Lake Buena Vista, Florida. After almost 60 years of Disney's corporate oversight, Florida Gov. Ron DeSantis is expected to soon sign a bill giving himself and future governors control over the board overseeing local functions for the entertainment giant's parks. Photographer: Brian Carlson/Bloomberg via Getty Images
What explains this year's pop in consumer spending? Boomers might be at least partially to blame.
The big picture: Social security recipients (of which retirees make up an overwhelming share) received an 8.7% cost-of-living adjustment this year — the single-largest increase in more than four decades. That is helping support spending, according to new research from Bank of America.
Driving the news: The bank's card spending data shows faster spending growth this year among households more likely to receive those payments, relative to those that don't.
In a new report, BofA economists found that as of mid-February, baby boomers and the preceding generation saw total card spending per household jump by 4% and 6% year-over-year, respectively. That compares to just 2% for all age groups.
The big picture: In aggregate, BofA found total card spending per household rose 5.1% year-over-year in January — compared to 2.2% in December. Early February figures show cooler spending activity.
Between the lines: Over the pandemic, spending among older generations — including consumers in that cohort on a fixed income — lagged relative to younger ones. Their incomes were disproportionately boosted by pandemic-era stimulus checks or tax credits.
Now, that is unwinding: Those income-boosting effects have faded, and spending has slowed for younger generations.
Some older consumers may be making purchases now that they put off in recent years. Spending on services is rising at a faster pace for them compared to the generational average, "perhaps reflecting their pent-up desire to enjoy travel and leisure activities," BofA says.
The intrigue: The cost-of-living adjustment was set based on an annualized measure of how hot inflation was running in Q3 2022. Inflation, while still high, has come down notably since then.
'This means that, in effect, the rise in social security benefits will have a little more spending power than if the inflation rate had not declined," the economists note.
Source: Read Full Article