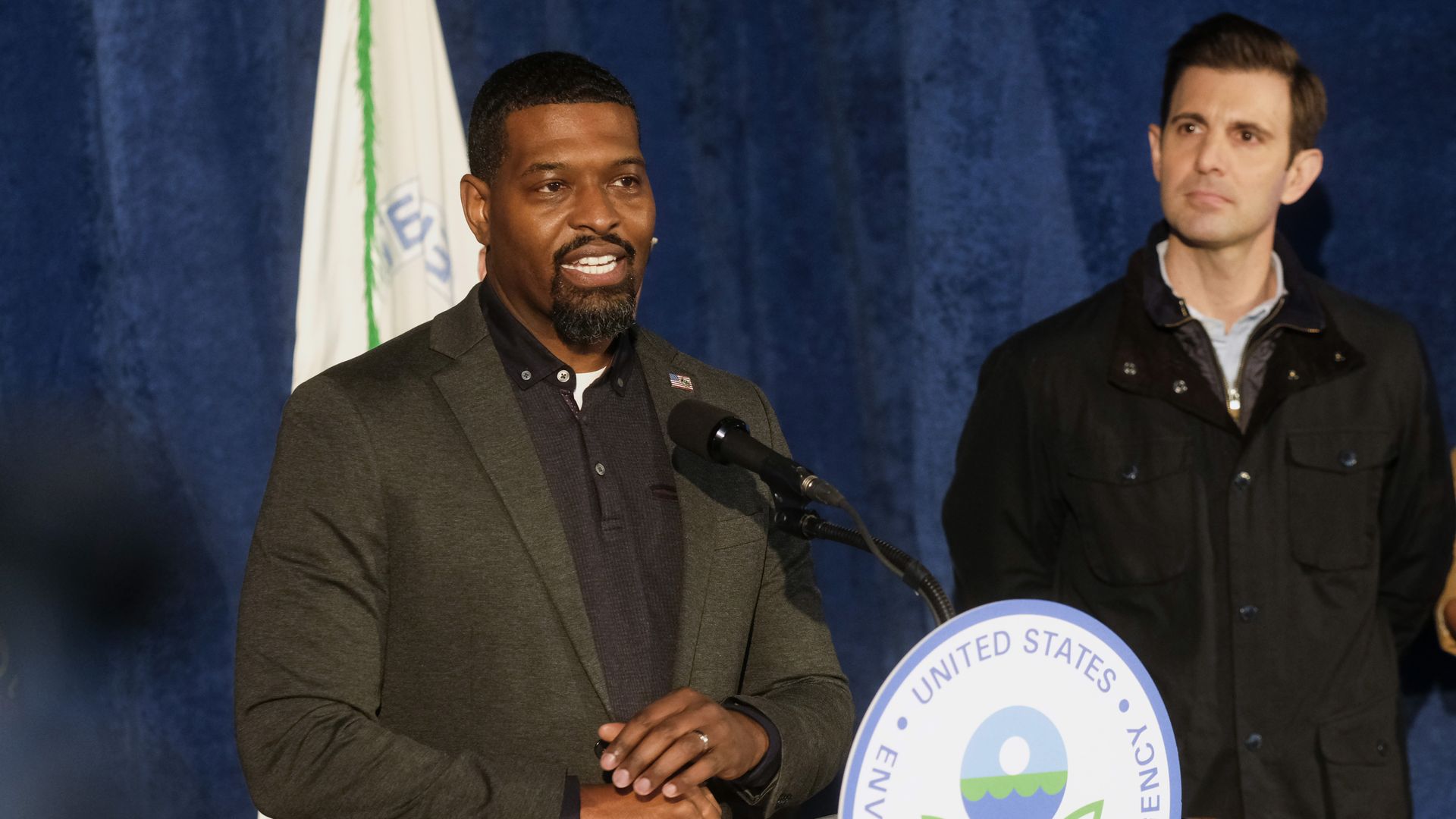 Michael Regan, administrator of the U.S. Environmental Protection Agency, speaks during a news conference in East Palestine, Ohio on Feb. 21, 2023. Photo: Matthew Hatcher/Bloomberg via Getty Images
The Department of Justice announced Tuesday that it has filed a lawsuit against a chemicals manufacturer in Louisiana over hazardous emissions from its manufacturing facility and their threat to public health in the nearby majority-Black community.
Driving the news: The plant operated by Denka Performance Elastomer LLC is heightening cancer risks by producing high levels of chloroprene emissions, alleges the complaint, which was filed on behalf of the Environmental Protection Agency (EPA).
Details: Chloroprene is a liquid raw material used to produce synthetic rubber, which is in turn used to produce goods including laptop sleeves, wetsuits and hoses. It is emitted into the air from various areas of Denka's facility in LaPlace, Louisiana.
Air monitoring conducted by both the EPA and Denka has consistently showed that in the air near the facility, long-term chloroprene concentrations are as high as 14 times the levels recommended for a 70-year lifetime of exposure, according to the DOJ.
The EPA and DOJ are seeking to compel Denka to drastically reduce the levels of chloroprene emitted into the air surrounding the community in St. John the Baptist Parish, which is 59% Black.
Moreover, roughly 20% of the population living within two-and-a-half miles of Denka are under the age of 18. Children have been found to accumulate excess lifetime cancer risk from breathing chloroprene at a faster rate compared to adults.
What they're saying: Every community, "no matter its demographics," should be able to breathe clean air and drink clean water," Associate Attorney General Vanita Gupta said in a statement.
"The company has not moved far enough or fast enough to reduce emissions or ensure the safety of the surrounding community," added EPA Administrator Michael Regan, who visited the parish in 2021.
Local activists have long fought for cleaner air in the region and specifically called out Denka's operations, AP notes.
"This action is not the first step we have taken to reduce risks to the people living in Saint John the Baptist Parish, and it will not be the last," Regan said.
Denka is a Japanese company that bought the plant in 2015, per AP. Spokespeople did not immediately return a request for comment.
Don't forget: People of color are more likely than white people to live near toxic sites and have a higher risk of suffering negative health effects as a result.
A 2021 analysis of government data found that people of color, especially Black people, are disproportionately exposed to pollution from nearly all major U.S. sources of emission, regardless of their residence or income.
Source: Read Full Article