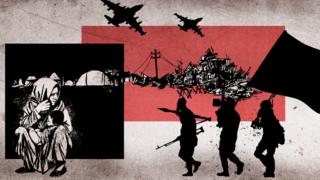 The northern Syrian province of Idlib is the last remaining stronghold controlled by forces opposed to President Bashar al-Assad.
Syrian government forces have been pushing into rebel-held territory with the help of Iranian-backed militias and Russian airstrikes.
Dozens of towns and villages have been captured by Syrian forces including a key strategic highway, the main economic artery through Syria from north to south, linking Damascus, Homs and Aleppo.
According to the UN, as many as 900,000 people, mostly women and children, have been displaced since the escalation of violence in December.
The fighting has led to the collapse of a fragile cease-fire brokered in 2018 by Turkey, Iran and Russia.
Turkey supports the Syrian rebels, while Russia backs the Syrian government's campaign to retake the area.
Turkish President Recep Tayyip Erdogan has threatened to drive back Syrian troops already in Idlib province unless they withdraw by the end of February.
The Syrian Observatory for Human Rights, a UK-based war monitor, said 1,240 Turkish military vehicles have crossed into Idlib in February, along with around 5,000 soldiers.
Who controls Idlib?
Idlib has been controlled by a number of rival opposition factions since government forces lost control of the province in 2015.
The main armed groups operating there are:
In January 2019, Hayat Tahrir al-Sham (HTS), an alliance of jihadists groups, launched a large-scale offensive against rival rebel groups in the area.
HTS has now become one of the strongest militant groups in northern Syria. It largely controls Idlib province, including the provincial capital and the border crossing with Turkey at Bab al-Hawa.
HTS is the latest incarnation of al-Nusra Front, which was al-Qaeda's official affiliate in Syria.
In 2016, al-Nusra Front declared that it had severed formal ties with the al-Qaeda network and renamed itself Jabhat Fateh al-Sham.
The following year, it merged with several small jihadist groups fighting in Syria and formed HTS.
Although HTS insists it is independent and not linked to an external entity, the UN, US and Turkey consider it a group associated with al-Qaeda and list it as a terrorist organisation.
Although analysts are cautious about making numerical estimates, Aymenn Jawad Al-Tamimi, an independent analyst, says he believes HTS is the biggest group, which still controls large parts of Idlib province, carries out most of the fighting against government forces and has between 15,000 to 20,000 fighters.
"HTS has also set up and backed a civilian administration in the area – the Salvation Government- that has thousands of employees," Al-Tamimi says.
In a report published in January, the UN gave a slightly lower estimate of between 12,000 and 15,000 fighters in Idlib associated with HTS, including many foreigners.
This report says that there are an additional 3,500 to 5,000 fighters affiliated with the Hurras al-Din group.
Syrian government supporters say the numbers are significantly higher.
Pro-government politician, Fares Shehabi, told us that he believes there are there are as many as 100,000 HTS fighters in Idlib.
He says HTS is affiliated to al-Qaeda despite its denials. "They carry al-Qaeda flags, they practise al-Qaeda methods," he said
Other groups
The other significant force is the National Liberation Front (NLF), which was formed in 2018 by rebel factions wanting to counter HTS.
It is a Turkish-backed alliance that includes hardline Islamist groups like Ahrar al-Sham and Faylaq al-Sham, as well as several groups fighting under the banner of the Free Syrian Army (FSA) – a force considered more "moderate" by Western powers.
In October NLF merged with other rebel groups in northern Syria and rebranded itself to become part of the Syrian National Army (SNA) under the command of the Syrian Interim Government's (SIG) Ministry of Defence.
But Aron Lund, a fellow with the US-based research group The Century Foundation, says the NLF "is still the same group of Idlib-based factions as before the SNA rebranding", noting that the alliance is held together by Turkish leadership, as well as Turkish money, weapons and supplies.
"They're clearly a weaker force than HTS," according to Lund. "They lack the cohesion, logistics, and organization of that group, and they are not as well armed. However, they add some manpower and are closer to Turkey whose role is going to be key to what happens next in Idlib," he says.
According to a report by the US Department of Defense released in February, the "Turkish-supported opposition likely consists of between 22,000 and 50,000 fighters from more than 30 different groups."
There are other groups as well.
One is Hurras al-Din (Guardians of Religion), a splinter group from HTS that is widely believed to be al-Qaeda's new affiliate in Syria.
Hurras al-Din is largely made up of HTS defectors and the two groups have so far found it difficult to set aside their differences and work together beyond occasional, limited collaboration.
Foreign militants
There are also many foreign jihadists in Idlib, many of whom are fighting for groups associated with al-Qaeda.
The Turkistan Islamic Party (TIP) is a group of Uighur fighters, who mostly fight alongside HTS.
The Uighurs – a Muslim ethnic minority primarily based in China's Xinjiang province – established a presence in northern Syria in the early years of the civil war.
There are also the predominantly-Uzbek Tawhid and Jihad Brigade, which is aligned with HTS, and the Imam al-Bukhari Brigade.
"We believe there are about 30-40,000 foreign fighters mainly Uighur, Tajik, Uzbek, Turks, and others from 103 nationalities – many with their migrated families," says Syrian MP Fares Shehabi.
But Raffaello Pantucci, of the UK-based security think tank the Royal United Services Institute, believes this number is too high.
"They and their families may not number more than several thousand," he says.
There are also believed to be other foreign jihadists in Idlib, including Chechens and Uzbeks, although the numbers are likely to be smaller.
Civilians trapped in Idlib
A major concern now is for the civilians living in Idlib.
The UN estimates it is home to 3 million people, including 1 million children.
More than 40% of these come from other areas previously held by opposition forces.
The UN says the air and ground attacks in Idlib have been causing both "massive waves" of displacement and "major loss of civilian life".
At least 1,710 civilians have been killed, including 337 women and 503 children since the escalation of the conflict in northwest Syria in April 2019.
Read more from Reality Check
Send us your questions
Follow us on Twitter
Source: Read Full Article